---
Nektar WIDIFLEX USB – Advanced Wireless MIDI for Your Computer
Product Code: NEKT_WIDIFLEXUSB
---
OUT OF STOCK
$119
$139.99
Wireless Bluetooth BLE MIDI for all operating systems
WIDIFLEX USB adds Bluetooth MIDI with an ultra-low latency of 3ms and advanced jitter optimization to all major operating systems. In combination with WIDIFLEX you can then create a wireless hi-performance MIDI setup for studio or stage, featuring twice the speed and four times the range (20 meters / 65 feet) of earlier Bluetooth versions. On MacOS you can of course use the integrated Bluetooth functionality, but by adding WIDIFLEX USB you will reduce the operating system's minimum latency from 7.5 ms down to 3 ms.
WIDIFLEX USB has advanced wireless connectivity for Auto-Pairing with WIDIFLEX. Pairing other devices is equally easy when you use the WIDI app for iOS and Android (free download in the app stores). You can also use it to create and manage WIDI groups of up to 5 Bluetooth MIDI devices. Your settings are memorized, so next time you start your system all your connections are automatically re-established. 
Plug in and go: Plug WIDIFLEX USB into your computer's USB connector and enjoy utra-low latency Bluetooth MIDI without having to upgrade your PC, tablet or smartphone. You won't even need to install custom drivers, as WIDIFLEX USB is USB-class-compliant. It uses the operating system's built-in MIDI driver. Simply plug it in and WIDIFLEX USB will become available as a new MIDI port in your DAW software!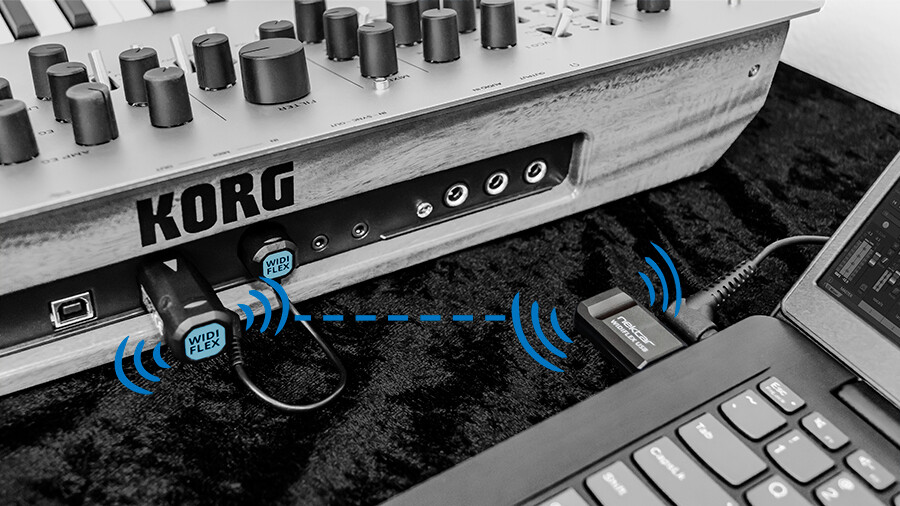 If you use WIDIFLEX to connect your MIDI devices, simply plug them into their MIDI sockets and they will auto-connect to WIDIFLEX USB by default. This also works with BLE MIDI devices, eg. a Keytar. To set up, edit and manage those connections, you can use the free WIDI app for iOS and Android.
Supported Operating Systems: WIDIFLEX USB is compatible with all current versions of major operating systems, including Mac OS, iOS, Windows, Android, Chrome OS and Linux. 
 KEY FEATURES
• Bluetooth 5: Secure connection for live & stage with 2x the speed and 4x the range of earlier Bluetooth versions.
• SCA Technology: Unique Smart Connectivity Algorithms for optimized WIDI performance
• Ultra-low 3 ms latency: ground breaking latency reduction
• Automatic Pairing: Instant setup
• WIDI Groups: Up to 5 devices
• MIDI Clock and SysEx: Transmission of all MIDI messages over Bluetooth including MPE
• Free iOS/Android WIDI App: Use the CME "WIDI App" to manage your settings and groups easily 
• No external power: 5V via USB